2022 has been an incredibly exciting year for the Head and Neck Cancer Foundation.
Our major clinical initiative developed conjointly with the Fordham Foundation, has been the establishment of a Head & Neck Rapid Access Clinic (HNRAC) at the Nelune Comprehensive Cancer Centre at the Prince of Wales Hospital.
Why is this paradigm shift in Head & Neck Cancer therapy delivery so important?
Despite all the public education, awareness programs and labeling (ie: cigarette packets); Head & Neck Cancer patients continue to present late with advanced disease necessitating major and debilitating surgery followed by radiotherapy and/or chemotherapy. This has a profound impact on quality of life and length of Life.
Head and Neck cancer is severely deforming and debilitating and survivors often become reclusive because of this. It is twice as common in men and men are known to ignore their symptoms. Most survivors will suffer depression and it has one of the highest rates of suicide.
Head and Neck cancer also has several obstacles to early presentation, namely:
Symptom Denial:
These cancers often occur in smoking and drinking males who deny or minimise their symptoms
These cancers often occur in well, sexually active young people who have no awareness of the possible seriousness of their symptoms.
Access to care
The health system is not geared to early diagnosis, rather it is geared to treating advanced disease
Unfortunately, although survival in Australia is better than many countries, about 3 people diagnosed with head and neck cancer out of every 10 will not live for another 5 years. Concerningly, Australia also has one of the highest rates of head and neck cancer in the world and the number of patients suffering from this type of cancer is expected to increase dramatically by 2030.
Because of late presentation, most patients have advanced stage cancer requiring operations that take about 9-16 hours, 2-3 teams of surgeons, weeks to months in hospital, radiotherapy and chemotherapy.
The cost, both to the patient and the community of this treatment is huge.
We are different. We are capable of these big operations and have outcomes comparable with the best private institutions in America. But we focus on recognising these cancers early and fast-tracking patients to gold standard treatment- that is the HNRAC Model of care.
HNRAC is the first and only such clinic operating in Australia. It took more than 2years of lobbying and data presentation to convince health decision-makers to finance a pilot study.
With HNRAC we now have a model providing immediate, FREE access to top specialist care to facilitate expert diagnosis and treatment. There is an emphasis on surveillance and harm minimisation programs to get patients off the smokes and reduce drinking to a safe level (because everyone needs a drink every now and then). We monitor and support mental health to help survivors return to work and play a beneficial part in our community.
HNRAC is intent on early cancer identification. This allows a simple surgery to shave an early cancer off the voice box or tongue in 60-minute operations, with the patient going home on the day of the operation or the next day. The alternative with late cancer identification involves taking out their whole voice box or half their tongue, resulting in loss of voice and difficulty eating and swallowing.
In our first year, we have seen more than 150 patients and managed 45 cancers. Our average time from General Practitioner referral to treatment was a world-leading 27 days compared with the usual average of 60-70 days. Early cancer identification enabled minimally invasive and highly accurate laser treatment of the voice box and we specialise in techniques to improve voice after these small operations. We also recruited 22 patients into harm minimisation programs and regularly examine our post-treatment patients.
We need your help and support to continue this game-changing initiative. We want to roll this paradigm shift in treatment approach out to the community as fast as possible and require ongoing publicity about the existence of this clinic and the importance of early presentation. Our community can't wait until the next election to fund this life saving initiative; we need to act now.
We need $1 million dollars in the next year to:
Continue funding and staffing the clinic
Set up our first rural clinic in Bega Shire
Train Head and Neck Cancer Specialist Nurses to aid in early diagnosis and to support our patients during their cancer journey
That's less than 15 cents from every member of the NSW population to play a key and positive part in the future, health, and well-being of our community.
Our motto is:
Help is one phone call away
Early Diagnosis: minimal intervention, great quality of life, longer life
You owe it to yourself and to your family, so if in any doubt please ring us
Please read on for an example of the Early Cancer or HNRAC Model of Care approach vs the Late Cancer presentation or Advanced Cancer Model of Care.
Example: 'Glen makes a choice'
Glens' life choice 1- the Early Cancer presentation, the HNRAC Model of Care
Glen, a 56-year-old male has smoked for 20 years of his life. He also likes to drink 3-4 nights per week, both at home and at the pub. Glen is a common fixture with his children at the local surf break. He developed a sore throat 2-3 weeks ago and has noted worsening roughness in his voice. His wife Kate and friends comment on it. Something is wrong. Glen and Kate find HNRAC online and attend a free appointment the following week. Glen has an early voice box cancer. It is removed the following week- taking 1 hour, Glen discharges home the same day and returns to work the following week. HNRAC helps him stop smoking and provides mental health support to overcome the realisation he has cancer. Glen is reviewed regularly, undergoes voice-improving surgery, is alive 15 years later, and starts to forget the diagnosis having stopped smoking and moved forward with life. His son and daughter have their own children and he takes great joy in spending time with them, helping pay for them to go to university, and being there when they get married.
Glens' life choice 2- the Late Cancer presentation, the Advanced Cancer Model of Care
Glen, a 56-year-old male has smoked for 20 years of his life. He also likes to drink 3-4 nights per week, both at home and at the pub. Glen is a common fixture with his children at the local surf break. He developed a sore throat and worsening roughness in his voice 2-3 months ago and now feels that it is difficult to breathe. His wife (Kate) and his friends commented on it months ago, but he dismissed concerns 'it's related to a cold and will go away'. It's also going to cost a 'small fortunate' to have it looked at, 'money we can't afford' he thinks. He feels a new lump on the right side of his neck. He wakes a fortnight later unable to breathe and starts coughing up blood. Kate is beside herself and rushes after the ambulance who are having trouble getting oxygen to Glen's lungs. Glen has an emergency airway tube inserted through his neck to help him breathe and is diagnosed with advanced voice box cancer that extends into the funnel that passes into the oesophagus. Glen is offered 'curative intent' therapy: surgical removal of his voice box, the top of his oesophagus, all the lymphatic tissue on both sides of his neck and requires recreation of his swallowing tube with tissue from his leg. The operation takes 15 hours. Glen is in hospital for 4 weeks recovering from the operation before commencing 5-weeks of radiotherapy and chemotherapy. He now breathes through the bottom of his neck and can never surf again, let alone get in the water.
Glen has a voice prosthesis inserted, but it doesn't work. He has to communicate by writing which frustrates him and he stops bothering to communicate at all. He can't go back to work and Kate works harder to cover their mortgage. Glen doesn't bother seeing his friends anymore and rarely goes out. Kate is really worried about his mental health, but Glen doesn't want to seek help. 2-years later he coughs up blood. This gets worse and he returns for review. He is diagnosed with a recurrence of the cancer in his neck that has spread to his lungs and pelvis. He starts chemotherapy and immunotherapy, but the cancer doesn't stop growing. Glen passes away 4-months later struggling to breathe as the tumour blocks his lower airway.        
Figure 1: Common progression of cost ($) and Life (years) for Early vs Late Head & Neck Cancer Identification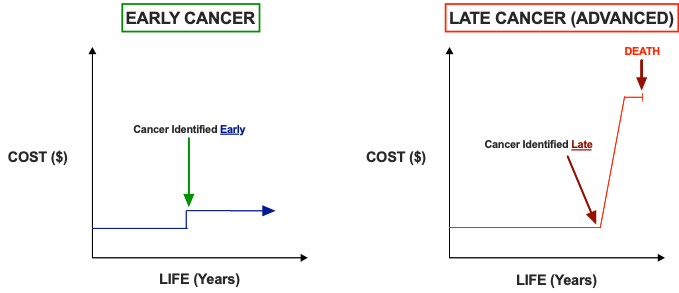 Due to the generous funding support of the Fordham Foundation amongst others, the Head and Neck Cancer Foundation has been active during these difficult pandemic times, undertaking and promoting clinical and basic science research.
Two major initiatives have been instigated during the calendar year of 2022.
The Head and Neck Rapid Access Clinic ( HNRAC ) has been up and running as part of a clinical trial to assess the impact of direct referral of high-risk patients, in terms of reducing treatment delay and improving outcomes.

Analysis of the preliminary data is very encouraging and will be published early in the new year.
Our basic science research, centered on the use of novel small molecules and delivery platforms, partnering with the UNSW, ANU, CSIRO and others, is showing promise to the point that the first of our products will be in animal studies before the end of 2023.
Please find below the report of the POW ORL H&N Research Group for 2021 / 2022.
With your support and the generous support of our major donors we hope to build on these firm foundations in 2023.
On behalf of all members of the Foundation we wish you a Merry Christmas and a Happy New Year.
Doctor Ian Jacobson, a founding member of the Head and Neck Cancer Foundation Board of Directors, has decided to step down from his role to focus on other commitments. We would like to acknowledge the seminal role he played in establishing our organisation and facilitating paradigm-shifting Australian research into head and neck cancer treatment.
The Head and Neck Cancer Foundation is a principal donor to a major research project with Benignancy and UNSW in the development of unique biodegradable meshes with a view to making a special oncomesh. This will improve and perhaps even revolutionise the treatment of some mucosal cancers. Dr Bala Umashankar has recently been appointed to this team.
The Head and Neck Cancer Foundation's Rapid Access Clinic has officially launched at Prince of Wales Hospital. Click here to learn more.
Paula Sankey runs a tracheotomy care workshop at the Prince of Wales Hospital
On April 13, Paula Sankey, our clinical nurse consultant and member of the board of directors, ran a day-long tracheotomy care workshop at the Prince of Wales Hospital. The workshop was designed for registered or enrolled nurses to consolidate and extend their knowledge and skill in safely and effectively managing the care of a patient with a tracheotomy.
Offered with both lectures and simulation, the workshop provided an overview of the care required for a patient with a tracheotomy including information on the respiratory system.
The different types of tracheostomy tubes were discussed with particular focus on the significance for the patient as were the requirements for the nursing care of patients with tracheostomies and emergency management. There was also an opportunity to practice nursing skills in relation to tracheostomy care.
Staff will be observed by the CNE and CNC to independently and confidently care for patients with a tracheostomy including identifying any potential concerns and escalating and managing appropriately.
Paula will be running her next tracheotomy care workshop on Wednesday October 27, 2021.
Our clinical nurse specialist, Paula Sankey, has been appointed to the Board of Directors.
The Head and Neck Cancer Foundation supports Facial Palsy Awareness Week. Check out Doctor Meller's blog here.
The Head and Neck Cancer Foundation raises another $100,000 through the generous donation of the Fordham Foundation.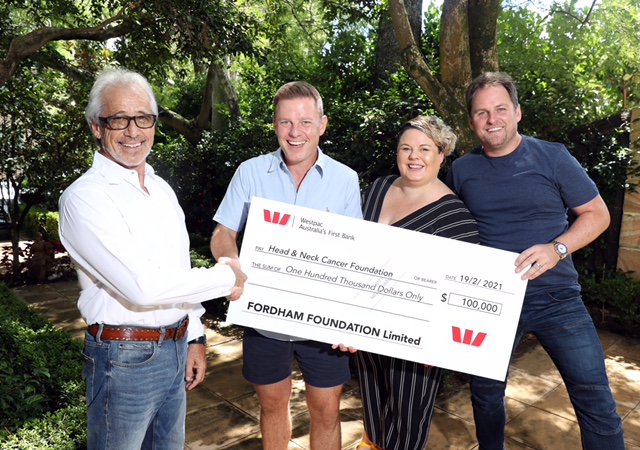 Since the launch of the Head and Neck Cancer Foundation on March 27, 2019, we have been fortunate enough to have had extensive media coverage to help promote our message and purpose.
We have also privileged to have been featured in print media.